Angler's Edge iPhone App
New patented technology maximizes your fishing success!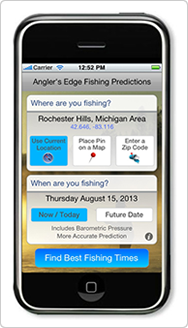 Price $4.99
Category: Sports
Current Version: 1.0
App Size: 7.3MB
Languages: English
Developer: Browser Kings



FEATURES:
Auto location by GPS, zip code, or map * User adjustable location
Hour-by-hour updated predictions based on changing solunar and weather conditions
Future predictions use barometric pressure influence for first four hours only
Sun/moon rise/set times * moon phase
Current weather and 1-wk prediction
Wind speed & direction * visibility * humidity
12-hr barometric pressure history
Tide data and water temperatures for coastal fishermen (Continental US/AK/HI)
Angler's EDGE™ patented technology (Pat. 7,536,375) was developed by wildlife biologists, who are also avid fishermen. Watch for Deerhunter's EDGE™ coming soon. Note that fishing and hunting predictions use different technology because fish and animals live in different environments. Adjust your fishing tactics to feeding behavior of fish.
Note:
Predictions are only available within in the US. If you'd like to see Angler's Edge™ in your location, please let us know. If we get enough requests, we will add other areas of the world.
For all Angler's EDGE™ application support, please contact sales@laylinassociates.com